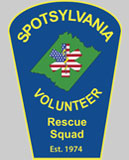 Call Stats
Mon
2017
2018
2019
Jan
264
309
241
Feb
231
242
208
Mar
281
277
300
Apr
284
273
246
May
269
298
253
Jun
258
291
251
Jul
326
296
215
Aug
287
294
Sep
287
262
Oct
257
280
Nov
257
251
Dec
285
275
Total
3286
3348
1714
Web Counters
Website Visitors
Since
January 30, 2007

Visitors Today
Aug 18, 2019


---
Interested in joining or getting more information?
Then click HERE!
---
Carolyn Marsh's Memorial Bench Dedication

Rescue Chief 1 Kimberly Madison, May 14

Thank you for joining us this evening for the dedication of this bench in memory of Spotsylvania Volunteer Rescue Squad president, past captain and more important dear friend, Carolyn Marsh. It is wonderful to see you here. I wish to thank Bob Morrison for his assistance in overseeing the bench project in memory of Carolyn.

Carolyn was one of those people who I describe as a quiet achiever. She ... (Full Story & Photos)


Spotsylvania Christmas Parade

EMT David Janney, December 01

Congratulations to Spotsylvania Volunteer Rescue Squad! SVRS took home the 1st place trophy in the Fire and Rescue division of the 2018 Spotsylvania County Christmas Parade held on December 1, 2018. SVRS would like to thank the following members for their contributions to this year's parade:

Kristyn DeCaprio and family
Dean Gallup and family
Andrea and John Greene and family
David Janney
Jim ... (Full Story & Photos)



Photo credit: Spotsylvania County Parks and Recreation


Passing of President Marsh

Rescue Chief Kimberly Madison, September 20

It is with profound sadness and deep sorrow we announce the passing of President Carolyn Marsh.

Carolyn was a trailblazer in our agency having served over 30 years with the agency in a number of administrative and operational capacities. Her personal and professional contributions to our organization are too numerous to count. She will greatly missed.

Funeral information will be announced when ... (Full Story & Photos)

SVRS Does Not Do Phone Solicitations

EMT-I Jim Lehnert, August 22

Unfortunately, it's a sign of the times.

SVRS was recently made aware of someone doing phone solicitations, supposedly on our behalf. It's a scam.

SVRS does not, and never has, solicited funds by phone.

We accept donations by mail throughout the year (see the Donate tab to the left). We also do a fund drive by mail once a year. ... (Full Story)




MCIM I/II Training!

Rescue Chief 1 Kimberly Madison, May 21

Responding to a call with a single patient is an every day occurrence. Even having two patients on scene is not completely uncommon. But what happens when we move into a situation with multiple high acuity patients that exceed the immediate resources that are available? Do you know the proper steps to take control of the scene and who to call for additional resources? Even the most seasoned provider ... (Full Story & Photos)

National EMS Week

Vice-President Bob Morrison, May 26

National EMS Week, is May 21 through May 27, 2017. This year, EMS Week was preceded by several events. The first was the National EMS Memorial Bike Ride originating in Boston, Ma. on May 13 and finishing in Crystal City on May 19. http://www.muddyangels.com/

On Saturday, May 20, The National EMS Memorial Service was held at the Hyatt Regency, Crystal City, Arlington Virginia. Approximately 100 EMS ... (Full Story & Photos)

Buzz Bob's Beard!

EMT-I Jim Lehnert, March 19

On March 31, IAFF Local 3866 will be holding a fundraiser for Caleb Lambert, a 3 year-old diagnosed with cancer. In addition to a bake sale, SVRS Life Member Bob Morrison has agreed to have his beard shaved with the person making the biggest donation getting first cut. Activities start at 7:00 PM. See that attached flyer for more information.... (Full Story & Photos)

Visit to Kindercare Preschool

Rescue Chief 1 Kimberly Madison, February 13

Ambulance 4-3 with Meghan Harcourt (AIC) and Amanda Nelson (Driver) paid a visit to Kindercare Preschool. The students were able to take a tour of the ambulance and ask questions. Thanks Meghan and Amanda! ... (Full Story & Photos)



Students at Kindercare Preschool with Ambulance 4-3!