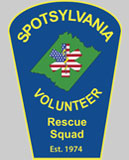 Call Stats
Mon
2015
2016
2017
Jan
319
306
264
Feb
293
274
231
Mar
290
269
281
Apr
295
292
284
May
312
349
269
Jun
343
312
258
Jul
302
348
326
Aug
304
333
287
Sep
320
264
287
Oct
300
250
257
Nov
261
246
257
Dec
267
292
Total
3606
3535
3001



Visitors Today:

Visitors Since
January 30, 2007:



---
Interested in joining or getting more information?
Then click HERE!
---
Free Car Wash for Vets

EMT Kristen Todd, November 08

Jack's Car Wash is offering a free wash to all military service personnel in honor of Veteran's Day. They want to let you know that it will be honored Rain or Shine and ask that you limit to one vehicle please. They are doing this as a proud participant of Grace for Vets. For more information you can contact them at www.JacksCarWash.biz

Thank you to all our military personnel for your service.... (Full Story)




National EMS Week

Vice-President Bob Morrison, May 26

National EMS Week, is May 21 through May 27, 2017. This year, EMS Week was preceded by several events. The first was the National EMS Memorial Bike Ride originating in Boston, Ma. on May 13 and finishing in Crystal City on May 19. http://www.muddyangels.com/

On Saturday, May 20, The National EMS Memorial Service was held at the Hyatt Regency, Crystal City, Arlington Virginia. Approximately 100 EMS ... (Full Story & Photos)

Buzz Bob's Beard!

EMT-I Jim Lehnert, March 19

On March 31, IAFF Local 3866 will be holding a fundraiser for Caleb Lambert, a 3 year-old diagnosed with cancer. In addition to a bake sale, SVRS Life Member Bob Morrison has agreed to have his beard shaved with the person making the biggest donation getting first cut. Activities start at 7:00 PM. See that attached flyer for more information.... (Full Story & Photos)

Visit to Kindercare Preschool

Rescue Chief 1 Kimberly Madison, February 13

Ambulance 4-3 with Meghan Harcourt (AIC) and Amanda Nelson (Driver) paid a visit to Kindercare Preschool. The students were able to take a tour of the ambulance and ask questions. Thanks Meghan and Amanda! ... (Full Story & Photos)



Students at Kindercare Preschool with Ambulance 4-3!

Quilt Raffle!

EMT-I Jim Lehnert, January 06

SVRS will be holding a raffle for this beautiful quilt on February 14. A local quilting group donated quilts to each of the cancer survivors on the squad, along with one extra for the raffle. The extra will be raffled off with the proceeds going toward the purchase of EMS equipment. There are 200 tickets, $5 each, or 3 for $10. Contact Pat Rumsey at parinky@aol.com to purchase tickets.... (Full Story & Photos)

EMS Tree of Life Visits Spotsylvania County

Vice President Robert Morrison, August 21

On July 2, 2016, The National EMS Memorial "Tree Of Life" was honorably transported by members of the Chancellor Volunteer Fire and Rescue Honor Guard from its current home in Stafford County to Spotsylvania County. It was displayed during a special "Stars and Stripes" ceremony at the Spotsylvania Merchants Square Pavilion. Chief Monty Willaford, Spotsylvania Fire, Rescue and Emergency Management; ... (Full Story & Photos)


Thank You Dr. Sambat for your service to Spotsylvania Volunteer Rescue Squad!

Rescue Chief 1 Kimberly Madison, December 15

In 1974 there was a movement in progress to establish a volunteer rescue squad in Spotsylvania County. Much of the preliminary work was being completed, fundraising, purchasing of equipment, making the necessary supplies, and training.

During that same time period there was a young doctor establishing a practice in Spotsylvania. When he became aware of the efforts to establish a rescue squad ... (Full Story & Photos)


Congratulations to the Rappahannock EMS Council Regional Award Winners

President Carolyn Marsh , June 12

Congratulations to the Rappahannock EMS Council Regional Award Winners:

Chief Kim Madison was award the 2015 Regional Award for Outstanding Administrator

Spotsylvania Fire, Rescue and Emergency Services Agency was award the 2015 Regional Award for Outstanding EMS Agency

Dr. Coleen Rickabaugh was awarded the 2015 Regional Award for Outstanding EMS Physician.

These individuals will now move on as ... (Full Story)